Problem solving before and after marriage
PreMarital Counseling helps you solidify emotional skills as a Couple so that you can more easily solve problems together once you're married. This will help you keep a positive emotional climate in your marriage.
Marriage is not a fairy tale
If you know people in successful marriages they will tell you this. It requires sustained effort, emotional stamina and occasional upgrades in the way that you interact.
All marriages generate patterns, which is good for stability, but occasionally unproductive patterns give rise to distressing problems.
During PreMarital Counseling we will focus on learning positive ways to solve problems together. This helps you avoid bad patterns and keeps resentment and disappointment at a minimum. I will help you increase your understanding of each other so that you can have a cooperative marriage.
How I can help you
There are some ways to communicate and solve problems smoothly together that can keep you in a zone of understanding and cooperation with each other and I can show these to you.
My focus is always on strengthening the bonds of love between people and providing the tools that will help you keep the atmosphere in your marriage cooperative and fulfilling.
I have over 27 years experience helping Couples create sturdy marriages and resilient lives together. I am happy to extend my expertise to you.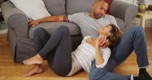 Dona Laressa Desmond, PhD, LMFT
PreMarital Counselor & Couples Therapist

$30 discount video counseling sessions